TERRY L. WILSON'S CAREER IN TELEVISION
Terry's career in television began while still in high school. He got a gig at WLW-D TV in Dayton as a floor director for a new talk show hosted by the then unknown Phil Donahue.
We know what happened with Donahue's career but what about Terry? Well, he began traversing between jobs working as a radio personality, a television producer-director and writer. Terry has earned his 15-minutes of fame in front of the camera many times over hosting a wide variety of magazine, game and entertainment programs.
In the process, Terry has received numerous accolades for his work in each of the above-mentioned endeavors. Terry has a book case full of Emmys for his work as a TV producer and on-camera personality, he was voted "Writer of the Year" for his work as a contributing writer for a variety of national publications featuring stories on everything from a cover article on Ronald Reagan to celebrity pets for Pet Life Magazine and he is one of the most published writers of martial articles in the world.
While spinning the hits of the day at WOXR radio in Oxford Ohio he set a World's Record by broadcasting non-stop from the window of a local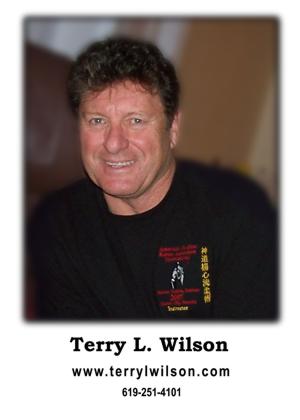 restaurant for 200-hours forever earning him the moniker of, "The Marathon Man." Dick Clark got wind of Terry's marathon and flew him to Los Angeles for an appearance on American Bandstand.
In Los Angeles He began directing for KCOP-TV doing everything from kids shows and talk programs to specials, news and sporting events. During this time he also became the first person to direct full-contact karate for the World Karate Association.
After nearly a decade with KCOP-TV Terry moved across town to KTTV-TV where he continued working as a producer/director for a wide variety of local and syndicated programs including the syndicated, "Stars of Rock & Roll."
With that in his rear view mirror, Terry took a job in front of the camera as co-host and story producer for PM Magazine.
When the Nashville Networked called, Terry pointed his car south and after stopping off for a few White Castles he went to work as co-host for "Money Mania" a combination game show home shopping program which was played nightly to a national audience of millions.
The next stop on the resume took Terry to Dallas as Executive Producer for the local Fox station, KDAF. While in that position he created one of the most successful Kids Clubs programs on the network along with a new entertainment series titled, "Karaoke Krazy."
When the radio bug bit, KODS Oldies in Reno offered Terry's alter ego, "The Marathon Man" a job he couldn't refuse. For several years he spun memories made of wax until another unique offer came his way.
Next stop Saipan. That's right. Saipan. Working as news anchor/Bureau Chief for Guam Cable TV and correspondent for CNN in Micronesia Terry, a history buff, explored the islands of the area from one end to the other.
After returning to the mainland, Terry went to work for Wealth TV Network in San Diego hosting and producing shows from around the world covering topics that range from Monaco's super yachts to multimillion-dollar car collections and much more.
Terry is also a high-ranking black belt in several martial arts and teaches a handful of self-defense seminars throughout the year. His articles on the martial arts can be seen n a variety of MA publications and on USA Dojo's website.