Welcome to the web site of Terry L. Wilson,
Television Producer, Director, Writer, On Camera Host/Reporter and Martial Artist!


Terry Wilson is a 7th degree black belt in Shintoyoshin-Ryu Jujitsu and a 5th degree black belt in Shorin-Ryu karate. He is also a five time Emmy Award winning television producer, director, writer and on camera host/reporter. Terry is the only person ever to receive an Emmy for producing a martial art special – "Karate Kung Fu & Arts of Self Defense – 1976. He was also the first to direct Full Contact Karate and Kickboxing for network television broadcasts on CBS, NBC. He was also director of syndicated programming for the World Karate Association. In front of the camera Terry was the host of numerous syndicated shows and television specials in addition to working as Bureau Chief and Anchor for Cable News in Saipan and Correspondent in Micronesia for CNN. In addition to being a contributing writer for many of the world's leading martial arts publications, Terry also writes for numerous mainstream magazines. In the process he was voted, "Best Feature Writer" by the San Diego Press Club in addition to receiving similar honors from the Society of Professional Journalists. Inside Kung Fu magazine named Terry "Writer of the Year 2005."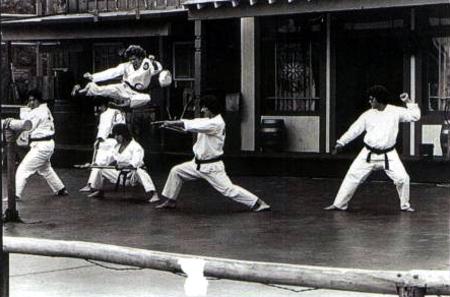 As a host and story producer for Wealth TV Network in San Diego I get to traverse the globe and hang out with people that I can't afford to live next door to. While covering the Monaco Yacht show I spent a week rubbing elbows with the super rich and super famous aboard some of the most expensive yachts in the world. These clips are from a few of my favorite events that I've covered for Wealth TV, including the San Diego Auto Show, Comic Con in San Diego and the Rib Cook-Off in Reno, Nevada.

Back in the days when music was made from wax and played on turntables I sat in the window of a restaurant in Oxford Ohio and played the hits of the day for 200 hours non-stop - I was a DJ for WOXR Radio and decided to set a new World's Record for continuous broadcasting. While I have lots of pictures from that event sadly no one thought to record my week plus long broadcast. So I put those images and a few others traversing my radio career over one of the shows I did while working as a DJ for Oldies 104 in Reno under the moniker of "The Marathon Man." An interesting side note, the guy whose record I beat was JP Richardson, who later became famous as The Big Bopper. Subsequently when he died along with Buddy Holly and Ritchie Vallens I inadvertently became part of Rock and Roll history. Since then I've become friends with the Bopper's son who now travels the world doing his dad's act.

This video is one of my favorites; I had a ball doing this show for Fox TV in Dallas. Karaoke Krazy (by the way I pronounce karaoke correctly in the show-it's kara'oke – the is NO oaky in karaoke.) I was hired as Executive Producer for Fox-TV in Dallas and one of the programs I created was a 30-minute romp that was a combination of Star Search and the Gong Show. Like I used to say, "You don't have to be good to do this, ya' just gotta' be Karaoke Krazy!"

Bob Chaney is one of the best, if not THE BEST Muay Thai trainers in the world. Over the years I've written numerous articles on him for a variety of martial art publications, a few years ago I traveled to Thailand with Bob, and a handful of his students to document their experience while training Thailand. A Hollywood-casting agent couldn't have put together a better mix of personalities for this trip. Each fighter came from a different background, and before the trip was over they would run a myriad of emotions and physical challenges that would eventually define their character and put to task their will to overcome a number of adversities. There were two professional fighters in the mix; one was Thomas "Wild Man" Denny, who at the time was the reigning King of the Cage champion. He was akin to an unlit fuse on a stick of dynamite in search of a match. I covered the guys as they trained in a variety of gyms throughout Thailand. From a nasty beyond description sewer strewn grimy gym in Samui, to a state of the art Olympic training center outside of Bangkok to a rainforest in the mountains where we trained under a pounding waterfall - this excursion had it all. I had no idea that the trip would end up in a near full scale riot with Chaney and Denny in the middle of the action. The back story is about a handful of American amateur fighters that wanted to experience what it was like to train in a real Thai gym and to actually be on the fight card in one of Thailand's larger arenas the real story is how we all got out with all of our vital organs in tact. At that time the Americans were not trained in the use of elbows so a "friendly" agreement was reached between Bob and the owner of the stadium that elbows would not be used against the US fighters. However the Thais were unable to effectively answer the Americans strong boxing skills and unknown to us the stadium owner had bet heavily on his Thai fighters. So when it looked as if they could lose, he told his guys to start tossing elbows – that's when the Muay Thai hit the fan.

While acting as Emcee for a Martial Arts Show in San Diego one of the acts failed to show leaving a gap in the program, so I grabbed Garth, one of my black belts and we did an impromptu jujitsu demonstration. I had a pair of false chattering teeth that I was going to use as a gag later in the show but I snuck it into our demo, Garth had no idea what I was up too.